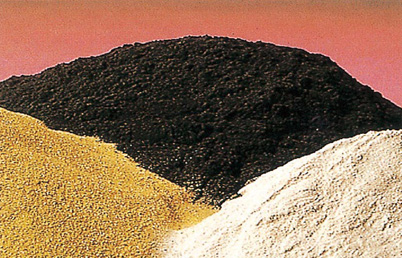 [Lapping Powder]
Lapping Powder
- High-precision grinding, polishing and lapping of semiconductors, ceramics and precision machine parts
- We supply all types of abrasives in various szies. Such abrasives include Green Carbide(GC), Carbide(C), White Alumina(WA), Alumine(A), Cerium Oxide, Gernet and etc.
※ You can check the contents by scrolling left / right.
Various lapping powders show excellent effect in super precision grinding, polishing, lapping and polishing of semiconductors, crystal, ceramics, magnetic materials, glass, stone, and precision machinery parts.

We sell all items on abrasives including Green Carbide (GC), Carbide (C), White Alumina (WA), and Alumina (A) by size.
Size Type and Mesh Size Comparison Table
* Main abrasive mesh size & Other item
WA(Lapping) powder Mesh Size
#240
#280
#320
#360

#400
#500
#600

#700

#800

#1000

#1200
#1500
#2000
#2500
#3000
#4000
#6000
#8000
A(Lapping/polishing) powder Mesh Size
#240
#280
#320
#360
#400
#500
#600
#700
#800
#1000
#1200
#1500
#2000
#2500
#3000
GC(Lapping) powder Mesh Size
#240
#280
#320
#360
#400
#500
#600
#700
#800
#1000
#1200
#1500
#2000
#2500
#3000
#4000
#6000
#8000
C(Lapping) powder Mesh Size

#240
#280
#320
#360
#400
#500
#600
#700
#800
#1000
#1200
#1500
#2000
#2500
#3000
Other item
1. High purity Alumina(UA)
super differential of 0.1~0.4㎛ as very high purity Calcined Alumina over Al2O3 99.995% sharp grit distribution
-Light Penetration ceramic, IC substrate polishing, ceramic tools, etc.
2. Higilite (Sintered Alumina)
as firing alumina, has 4 types
low soda alumina : as a content of a little
soda, only electronic parts resin, filler
white alumina : white various Grit distribution(8~55㎛) artificial marble, rubber plastic filler, teeth abrasive
fine alumina : high amount of heat absorption(470cal/g), hard combustibility filler of rubber, resin
3.spherical alumina (AS)
high thermal conductivity, released thermal energy sheet filler, ceramic material by a spherical shape
4.etc. all item of SHOWA DENKO
SA, BW, besides all sorts of ceramic matter
5.A-21 Series
as Calcined Alumina, manufactures group of the Japanese SMIMOTO industry
6.Nozzle, Gun only Sand blasting
7. Lapping Oil
8.all sorts of abrasive of the world nation
Plate Type & Purpose
Classification
Name of Goods
Main Element
Use
Suppry
Grif

Remarks

Alumina
A
Al2O3,96%

Carbon steel, castings, bronze, optical lens, prism, Braun tube, denim discoloration, blasting, etc.
SDK,
Products of China

~#3000

Brown fused
Alumina

WA
Al2O3,99%

High-carbon steel, high speed steel, precision machinery parts, quartz crystal, optical glass, etc.
SDK,
Products of China
Nanko

~#8000

White fused
Alumina

PW
Al2O3,99%

Silicon, optical materials, crystal, stainless steel, synthetic resin etc.
SDK
브라질
Pink fused White Alumina
Silica Carbon
C
SiC,98%

Low tensile strength iron, non-ferrous metals, brass, aluminum, rubber, etc.
SDK,
Products of China Nanko

~#4000
Black Silicon
carbide
GC
SiC,99%

High strength alloys, crystal, quartz, magnetic materials, semiconductors, jewels, etc.
SDK,
Products of China
Nanko
~#8000

green
Silicon
carbide
Mirror
Abrasive
material
ROX
CeO2
Crystal, Glass, etc.
SDK
H,K,
M-series
Cerium Oxide,
Serox
Sho-
polish
SDK
S.G.M.A.P.D
-series
Etc...
AZ
Al2O3+ZrO2
High Purity Silicon, Compound Semiconductors, Faucet, etc.
SDK
~#4000
Alumina
Zirconium
CBN

B4C

Artificial Diamond (Boron Carbide)
SDK
Boron Carbide
Cubitron
For Precision Polishing
SDK
Seeded Gel
Glass Bead
SiO2,Na2O
Sand Blasting
Potters
(Australia)
#20~#325
TOSA
Al2O3
Stainless Steel
Nanko
#60
~#1200
Emery powder
Gamet
Natural Garnet
Sand Blasting, Abrasive paper, etc.
Products of China
#20~
Kind
CODE No.
9450
410
415
437
431
432
434
435
Mechano Cloth
Peron
PSU
530
540
Rayon(Artificial Fiber)
●
●
●

For Pre-polishing

For Finishing

Synthetic fiber, STD, with special air bubbles, is used for rough grinding and the PSU is suitable for long time use.
Cotton
●
●
●
Compressed Wool
●
●
For chemical LAP
Synthetic Fiber
Supporter
●
●
Diamond
Particle
Diameter
Range of
use of the
HYPREZ
Diamond
Slurry
1/10μ
●
1/4
●
●
●
1/2
●
●
1
●
●
●
●
●
●
3
●
●
●
●
●
6
●
●
●
●
●
9
●
15
●

Abrasive
Material
Finishing for
Alumina Sulfur
●
Precision-finishing
of Alumina
●
●
●
●
Cerium oxide
●
●
Combined Paste / Lubricant
Water-based
Aqueous Oil
Water-based
Water-based
Aqueous Oil
Water-based
Size
105/200/230/380/610/910 (Others are special orders)