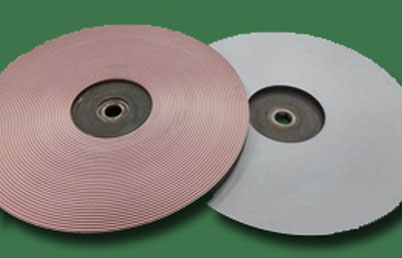 [Composite Plate]
Composite Plate
These plates are standard plate of Lapping machine which our company handle and has various sorts as high precision lap plate and could be applied to wide range of materials.
※ You can check the contents by scrolling left / right.
The plates can choose which plate to use, according to the workpiece's quality, demanded roughness, the kind of diamond powder that is used.
And these can be to other machine, and possible to make size of plate moderately to the appointed machine and, easy to manage as a user has to separate a plate and attach a new one for replacement, also these process various groove according to the matter of the plate.

 

 

* Feature
1. As this composite plate has pliability, it doesn't damage the lap's face, because it absorbs the diamond's impact on diamond&workpiece work.
2. Composite plate has elasticity that preserve diamond uniformly and jet diamond at plate uniformly and fixing-abrasive diamond pellet evenly.
3. You can use Conditioning Ring for 1-2 minutes to gain complete the plate.
4. It protects against frictional heat and prevents Laminat Flow phenomenon.
5. As composite plate has various kinds, you can choose the most suitable plate.
Sort
Application
Feature
Diamond Size(μm)
Iron
Aggressive Stock Removal
This, intrinsic molecular complex of iron, is fit for hardened rapid Lap including Ceramics, Tungsten, Carbide, and possible to early Lapping and has a long life.
9, 15, 30
Cu
Moderate to Aggressive Stock Removal
This, high molecule complex of copper, is fit for Ceramics, Ferrite, German Silver, Sapphire, conditioning Lapping Stock and good for lap plate/1-step (early lap+finish lap)work.
3, 6, 9
Tin/Lead
Fine Stock Removal
This work on mass production of processing ferrite and is fit for soft materials like crystal, quartz, glass, etc.
1, 2, 3
Tin
Fine Stock Removal
This, high molecule complex of tin, is fit to precision stock used in material having electromagnetic function like Alumina, Zirconia, etc. but unsuitable in case the workpiece is lead.
1/4, 1/21, 2, 3
Ceramic
Moderate Stock Removal
This, complex plate of Ceramic&Ferrite, is fit plate to hard metal, single crystal, Ferrite, etc.but unsuitable in case workpiece is metal.
1, 2, 3
* It is possible for you to order the size&thickness of the plate. (12", 15", 24", 36", 48", thickness 1/4¨, 1/2¨, 1¨)