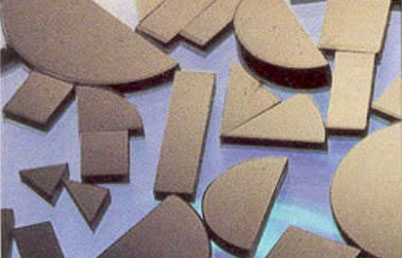 [Super Abrasive]
Bite
PCD, PCBN cutting tool
※ You can check the contents by scrolling left / right.
Plate Type & Purpose
PCD Cutting Tool
PCBN Cutting Tool
It is a strong compound sinterring a diamond particle under high temperature& pressure. It has no direction and has all of hardness, the abrasive Wear Resistance and Thermal Conductive diamond has
it is compound sinterring CBN particle, which doesn't react to with ferreous metal, under ultra high temperature · pressure and used in a hard ferreous matter
Use
Efficiency at part cutting processing nonferreous metal like aluminum, copper alloy as hard metal
Fitness for cutting processing of heat treatment steel, sintering ally iron, Thermal spray metal, difficult-to-cut materials like heat resisting alloy
Feature
- Little is chipping production
- Though cut different thing like hard, edge's damage is little and there isn't formation of phosphoric -for tool longevity is 30~100 as long as hard metal, losetime replacing a tool is little and machine's operating ratio improvement.
-A size compensation of a tool abrasion is little. -a tool cost is inexpensive.
- High speed cutting of a hard metal by 10times
- Efficiency of a processing cost reducing by tool cost's reduction and cutting ability's improvement
- Predictors of dimension is improved and can gain clean agressive stock removal surface, so it is possible to turn grinding processing into cutting processing
- Tool's fintion is improve by using a cutting fluid
* We sell material and specially manufacture by spec.