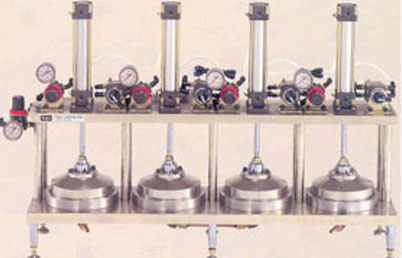 [Bonding Machine]
Bonding Machine
This Bonding machine can execute a efficient Bonding and Waxing.
It makes water flow in a high pressure to cool the heated plate quickly.
It can use a pivot of almost repair.
A pressure that doesn't become standardization exhaust strong result the maximum diameter of plate is 140㎜.
※ You can check the contents by scrolling left / right.
Size Type and Mesh Size Comparison Table
| Code | No. of axis | Size | Weigh |
| --- | --- | --- | --- |
| HWB-1AL | 1 | 220*220*550mmH | 20kg |
| HWB-2AL | 2 | 200*400*550mmH | 35kg |
| HWB-3AL | 3 | 200*600*550mmH | 45kg |
| HWB-4AL | 4 | 200*800*550mmH | 60kg |