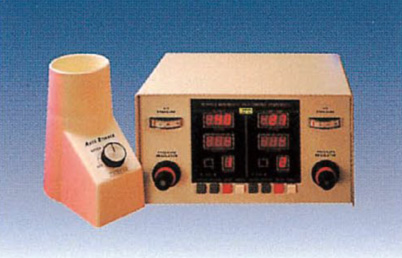 [Minimiser & Auto Stirrer]
Automatic mixer & sprayer
Minimiser economically controls spray time and amount of diamond slurry and lubricant to be used.
Auto strirrer disperses the diamond powder by stirring the diamond slurry with the spin bar at a regular basis to ensure equal distribution
EM-1 Minimizer, equipped with an electronic digital reader, is perfectly automatic, easy to use and read, and has a constantly reproducible performance.
Spray interval is up to 999 seconds and spray time ranges from 1 second to 9 seconds.
※ You can check the contents by scrolling left / right.
Plate Type & Purpose
Minimiser (EM-1) Spec
Autostirrer (AS-1) Spec
Power
100V-200V single-phrase
Power
100V-200V single-phrase
Air Pressure
2-5 kgr/cm2
RPM
0-1550
Interval Time
0-999 sec
Spay timer
0-9 sec
Dimension
300×150×150mm

Dimension
(OD*H)

φ100m×200H
Weight
5.5kg
Weight
1.9kg
Accessories-Spary Nozzle & Spin Bar
attached to the Minister and slurry bottle, Nozzle and Spin Bar participating in spraying directly is necessary needed in slurry Grinding attaching auto agitator.
Nozzle Spec
Code Name
Nozzle Length
5A
130mm
10A
255mm
15A
380mm