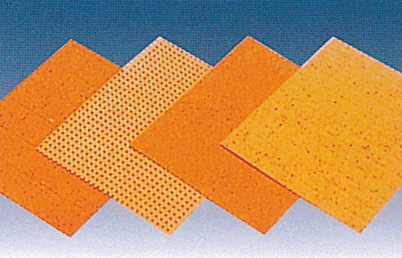 [Polishing Cerium Pad]
Polishing Cerium Pad
Cerium pad is a foam urethane pad mixed with Cerium Powder and other polishing agent, and is applied to ultra high precision polishing of LCD Glass.
※ You can check the contents by scrolling left / right.
* Main Feature
- Precise management of matter thickness
- A size&right angle degree& precision of workpiece insertion part is excellent
- Long life & economical efficiency
- Minimize the badness like cutting by mistake or scratching of edge when polishing
- Separate & exchange the Holder and a Backing Film
Diamond Powder Type
Possible standard has φ150, φ200, φ300, φ381, φ610,φ910, it is possible to order an additional spec.
Materials used in Work Holder is Bake-Lite, Glass Filber Epoxy Sheet, Poly-Cabonate Sheet,etc..
Plate Type & Purpose
Polishing Cerium Pad
Template Assembly
Template is a product used to affix substrates to the carrier plate of polishing using mounting wax.
It improves the surface flatness as well as the productivity because of the automatic operation. We are able to produce template assembly in various sizes to meet our customer's needs
· Depending on the customer's request, we are able to produce the polishing pad up to Ø1,300mm and 1,750mm in square. The possible thickness is between 1-5t(mm) and groove can be produced according to customer' s drawing
· Cerium Polishing Pad is an essential polishing subsidiary material and can be used for polishing of High-quality Glass Panel, Semiconduct Substrate, Glass Disk, Optical Fiber & Science Components, Lens, Touch Panel, TFT-LCD, LCD Window Glass, Blue Glass Panel or Sapphire, Quartz, Silicon Wafers
Epoxy Glass Carrier
Epoxy Glass Carrier is used in double-side polishing of glass/silicon wafer which requires the most suitable polishing condition and super precision.
We can meet your needs if you can provide us with the pecifications of a product