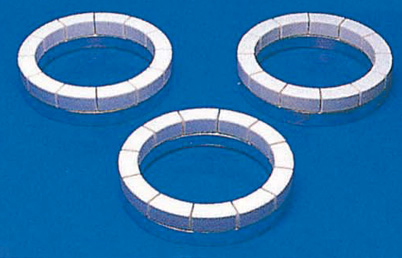 [Ceramic Conditioning Ring]
Ceramic Correction Ring
It uniformly disperses the diamond powder of the slurry on the lapping plate, hardening the diamond powder at high rate to prevent chipping or scratching.
Ceramic is used for the part in contact with the surface plate in order to suppress abrasion and shock of the surface plate.
※ You can check the contents by scrolling left / right.
Code No.
Plate Size(Ø)
OD×ID×Height
ACR-101
300mm
143×107×40
ACR-102
380mm
178×140×40
ACR-103
460mm
220×182×55
ACR-104
610mm
286×250×55
ACR-105
710mm
286×250×70
ACR-106
910mm
435×385×70
ACR-108
1200mm
530×480×70
※ Other specifications can also be customized.