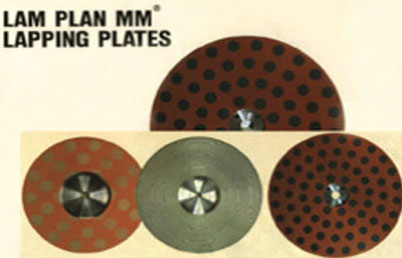 [Lamplan Multi Metal Plate]
Multi Metal Plate
※ You can check the contents by scrolling left / right.
Completion of MM LAPPING SYSTEM and makes sample processing simple.
The mother-body of MM LAPPING PLATE is metal, but MM LAPPING PLATE complete it uniting in a different matter as pattern at each place and structure-function like this enlarge LAPPING ACTION.
And only a little diamond is enable to shorten Lapping time, compared to the usual plate.
Composite plate, the most important element, shows best effect when used with diamond slurry.
Lapping plates function is to cause soft cuttings by setting diamond particle on plate.
Sorts
Feature
Diamond Size
(Unit:μ)
MM980
Superhard Type
Fit Aggressive Stock Removal of metal material
30, 45
MM991
Hard Type
Fit face processing of metal material executed by heat treatment after polishing.
9, 15, 30
MM992
Medium Type
Fit stock of artifact necessary to plane figure gloss.
3, 6
* It is possible for you to order the size&thickness of plate. (12¨, 15¨, 24¨, 36¨, 48¨, thickness 1/4¨, 1/2¨.1¨)