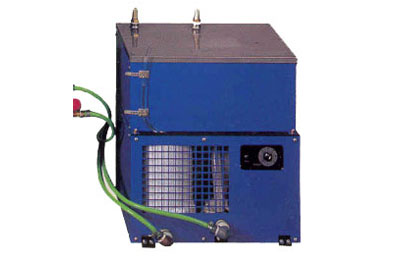 [Chiller]
Chiller
This, a water cooling-cooling device, using a refrigerants like a Freon to drop the temperature of the hot water cooling and return it to a Water Cooling Unit.
And it maintain the water cool as setting the temperature by a thermostat of high sensitivity.
when you use it specially, you can deal with ti by changing the spec according to the use&purpose.
※ You can check the contents by scrolling left / right.
| Type | Capacity | Power | Dimension | Weight |
| --- | --- | --- | --- | --- |
| HWU-30015"plate | 770Kcal/h | Third-phase 220V | 450×440×550mmH | 30kg |
| HWU-75024"plate | 1600Kcal/h | Third-phase 220V | 660×560×1000mmH | 150kg |
| HWU-150036"plate | 3600Kcal/h | Third-phase 220V | 660×560×1300mmH | 150kg |