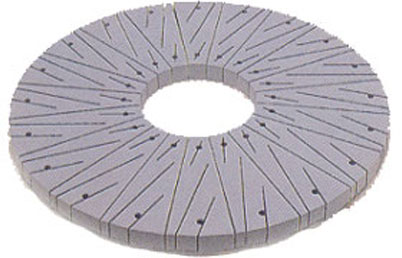 [PVA-WP Plate]
PVA-WP Plate
This is elasticity whetstone on sponge made by Acetal of Polyvinyl Alcohol as bonding agent.
※ You can check the contents by scrolling left / right.
You can gain a good surface roughness, using only water or grinding fluid to process a soft workpiece among nonferrous products whetstone of sponge structure.
And it has tiny air holds that separates heat at processing to preserve the workpiece from heat, so in use of general abrasive material, it makes process of soft products originated with surface burning up possible.
Example of Processing
Hard Disc
IC Lead Frame
Printing wire board
Plate Type & Purpose
Sort
JWP Type
WP Type
Feature
Great uniformity little scratch
Great polishing, wear-resistant
Spec
Spec
Flat type, Ring type, Cup type, Geotaxis type
Flat type , Ring type, Cup type, Geotaxis type, Nut type, Campodeiform Ring-type Large Spec: 405×75×203.20
Abrasive
C
C, GC
Grit(#)
800, 1500, 2000, 3000, 4000
220, 320, 400, 600,800, 1500, 2000, 3000
Application
▶Aluminum board,stainless board's surface mirror complete polishing
▶precision polishing of soft metal like copper, aluminum
▶computer magnetic disc complete polishing
▶Centerless of special matter like stainless, cylinder polishing
▶General polishing
Max wheel speed
1500m/min
* It is possible for you to order the size & thickness of plate.(12¨,15¨,24¨, 36¨, 48¨, thickness 1/4¨, 1/2¨. 1¨)