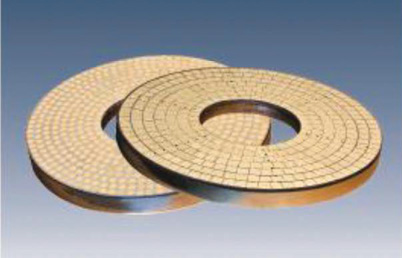 [Vitrified Diamond Pellet Plate]
Diamond Plate
Vitrified Bond Plate, integrating the advantages of Resinnoid Bond and Metal Bond, shows excellent cut-ability and improves the work environment by only using water.
※ You can check the contents by scrolling left / right.
Manufacturing
Standard
Spec
6BL, 9BL, 12BL, 18BL
Abrasive
Diamond, CBN
Concentration
100
Application
▷Ceramic : Alumina, Silicon, Carbide, Ferrite
▷Zirconia, Boron Carbide
▷Glass Products (Sapphire), Quartz
▷Aluminum, Copper, Brass, etc.
* Plate size and thickness can be customized.(Size: 12", 15, 24", 36", 48", thickness: 1/4", 1/2", 1")
Plate Type & Purpose
Plate Type
Purpose
Contenty
Abrasives
Iron Plate
Course Lapping
It is an iron polymer suitable for lapping of ceramics, Tungsten Carbide and etc.
Diamond Powder
9μ, 15μ, 30μ
Cu Plate
Middle Lapping
It is a copper polymer suitable for lapping of ceramics, ferrite nickel silver, sapphire and crystal.
Diamond Powder
3μ, 6μ, 9μ
Tin Plate
Fine Polishing
It is a tin polymer suitable for lapping of alumina, zirconia with electromagnetic functions.
Diamond Powder
1/4μ, 1/2μ, 1μ, 2μ, 3μ
Ceramic Plate
For Composite
Ceramic- ferrite complex plate. Base plate suitable for hard materials such as cemented carbide, single crystal ferrite
Diamond Powder
1μ, 2μ, 3μ
Cast Iron Plate
Course Lapping
Suitable for all types of workpiece rough machining.
GC, C, WA, A
Diamond Pellet Plate
Course & Middle Lapping
Excellent cut-ability for difficult materials such as iron, nonferrous, ceramics and carbide.
None
PVA & FBB Plate
Course & Middle Lapping
Suitable for processing soft material of iron and nonferrous products.
None
Plate Size : 8", 10", 12", 15", 18", 24", 36", 48", 52", 64"

t : 1/4", 1/2", 1"